We have simulated about 8 different deep drilling strategies, and are looking for more feedback on what works well and what strategies we should use going forward.
A full block of plots are available here: https://github.com/lsst-sims/sims_featureScheduler_runs1.4/tree/master/ddf_comp
These are runs comparing three different DDF sequences, the baseline which has rx20, gx10, ix20, zx26, yx20, the AGN white paper proposal which has gx1, rx1, ix3, zx5, yx4, the DESC white paper which executes gx2, rx4, ix8 and zx25, yx4 and a flexible sequence that tries ux8, rx20, gx10, ix20, zx26, and yx20 with whichever 5 filters are available. We also look at replacing the DD290 field with Euclid deep fields. The README file in the repo has more details.
Some highlights:
Here is how deep the COSMOS DDF gets in different simulations: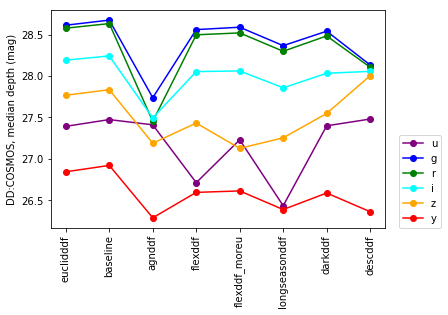 Here's the fraction of SNe that are detected on the rise in each DDF for each simulation.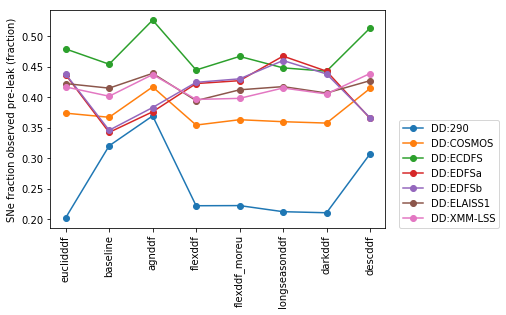 It would be great to get more DDF-specific metrics so we can try and choose between these strategies. I know there are some SNe metrics running around that I should fold in. It would be great to also have some AGN-specific metrics. Perhaps something related to photo-z because we don't have anything really constraining the ratio of final depths.
Tagging DDF white paper authors and other DDF fans: @dscolnic, @nielbrandt, @philippe.gris, @MichelleLochner