Hello galaxy fans!
This is the first in what will hopefully be a series of Community posts where we are reaching out to the science collaborations to review the science metrics we have as we try and converge on a final survey strategy.
Currently we have very few metrics that touch on static extragalactic science. We have a metric that estimates the number of galaxies that we can expect in the final catalog, thanks to @humnaawan . Here are two examples of the output of this metric run on two different survey simulations. The simulation that uses a footprint that avoids dusty parts of the sky gets 13 billion galaxies, while the baseline only gets 12 billion.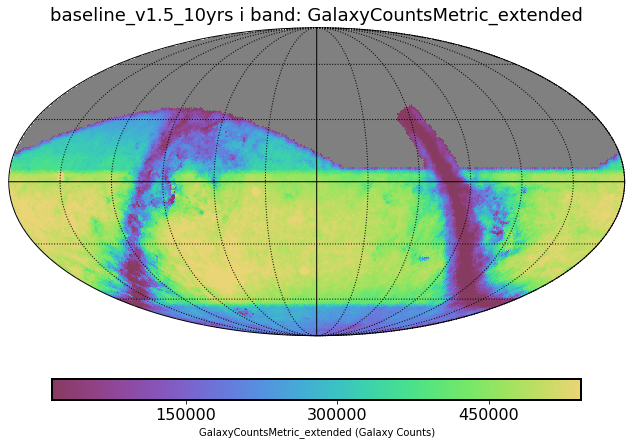 Two more potential science metrics that I can think of:
The ability to fit stellar populations in LSB streams. This will be sensitive to the relative depths of the different filters. This is currently being driven by photo-z accuracy, but it would be nice to have more metrics on this.
Perhaps more for the Milky Way and Local Volume group:
2) How well LSST can measure resolved stellar populations in nearby galaxies. There was a white paper by Bell et al that discussed this and argued for more g-band observations. This could also be sensitive to how agressive we are at ensuring all parts of the sky are observed in good seeing conditions.
Examples of our current science metrics are available here: http://astro-lsst-01.astro.washington.edu:8081/allMetricResults?runId=15
Beyond the count of the number of expected galaxies, are there any other science metrics that would be good to develop?