After running the jointcal astrometry on the HSC SXDS field using Pan-STARRS as a reference catalog I have analysed the astrometric scatter from 8 visits (7274, 7276, 7420, 7422, 14108, 14112, 38074, 38080) x 104 CCD (HSC-I filter). I purposely used visit spread over the whole observing time . In order to do so, I arbitrarily use the first visit as a reference then match all the other visits to the first one and compute the angular distance between each source and the reference using both the individual calexp WCS and the WCS updated by jointcal.
Here is the result: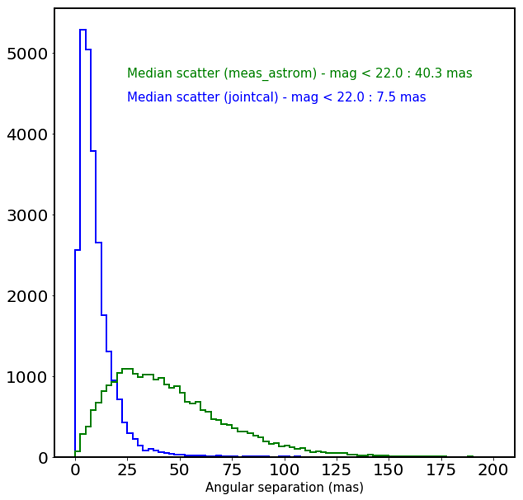 The result looks pretty good, but looking into the details of jointcal processing we can see that the fitting algorithms has removed thousands of reference stars identified as outliers. This is probably partly due to our instance of the Pan-STARRS reference catalog which contains a lot of junk sources.
The following plot shows the RA, DEC distribution of the PS reference sources: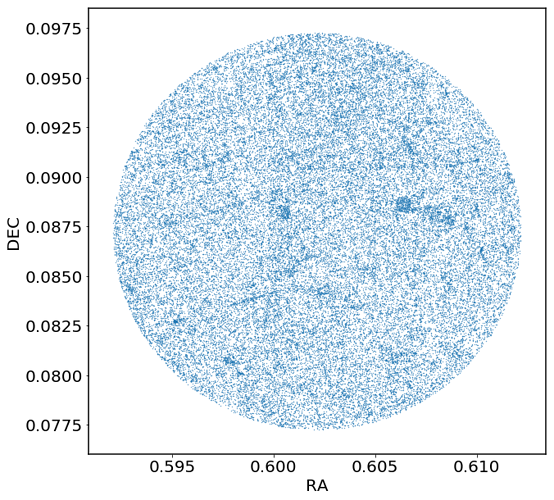 We can see that there are strange patterns. There are also many sources with a magnitude > 23.2 which is supposed to be the limit for the PS catalog built from coadded images in the r band.
I also noticed that some fields are missing or null in our PS catalog : the error on position is 0 and the field nDetections is missing. According to @PierreAstier requiring nDetections >=2 would remove most of the spurious sources. @PierreAstier also thinks that using the error on position from the reference catalog in jointcal would improve the result.