Hey everyone, check this out. There is a new supernovae/ folder in our rubin-dp0 GitHub repository. This repo is where delegates can share their DP0.1 notebooks on any topic:
I've added a notebook to the supernovae/ folder titled Plot_A_SNIa_Multiband_Lightcurve.ipynb, which will find a Type Ia supernova in the truth_match catalog, use the Butler to retrieve associated Source measurements, and then plot the multi-band light curve.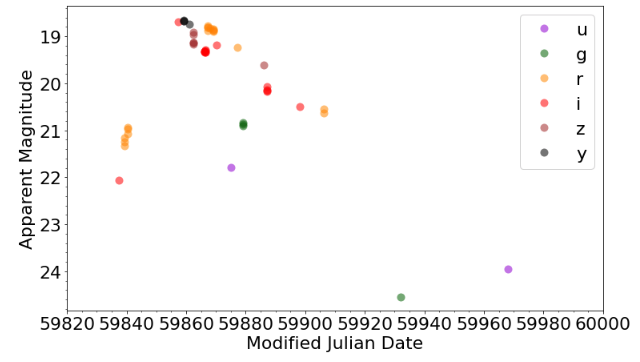 It's a really simple notebook. It could be improved by retrieving magnitude errors and adding them to the plot, or combining the data into single-night photometry points.
Other fun SN-related notebooks that could be added to the supernovae/ folder might involve host association and characterization, or light curve template fitting.
What do you think? Anyone else want to work on DP0.1 supernovae?
Or perhaps you'll be inspired to start a new folder for your science interests in the shared delegate-contributions-dp01 GitHub repo, or even a new DP0 Working Group!