I am using LSST pipelines version v24_0_0 on RSP. I am attempting to run the following pipetask processing command, which was previously successful with v23_0_1:
DATAQUERY="exposure.observation_type='science' AND detector!=2 AND detector!=61"
OUTPUT=DECam/runs/v01
LOGFILE=$LOGDIR/step1-v01.log; \
date | tee $LOGFILE; \
pipetask --long-log run --register-dataset-types -j 4 \
-b $REPO --instrument lsst.obs.decam.DarkEnergyCamera \
-i $INPUT \
-o $OUTPUT \
-C calibrate:config/processCcd_grz_config.py \
-C transformPreSourceTable:config/transformPreSourceTable_config.py \
-c calibrate:deblend.maxFootprintArea=3000 \
-c characterizeImage:psfIterations=1 \
-c characterizeImage:measurePsf.psfDeterminer.name="psfex" \
-c calibrate:astrometry.matcher.maxRefObjects=3000 \
-c isr:doFringe=False \
-p $DRP_PIPE_DIR/pipelines/DECam/DRP-Merian.yaml#step1 \
-d "instrument='DECam' AND $DATAQUERY" \
2>&1 | tee -a $LOGFILE; \
date | tee -a $LOGFILE

This fails early on with an error about:
lsst.pex.config.config.FieldValidationError: RegistryField 'measurePsf.psfDeterminer' failed validation: Unknown key 'psfex' in Registry/ConfigChoiceField
I have attached the full log file.
I looked at the v24_0_0 docs and it appears to me that 'psfex' is still listed as a valid option there:
https://pipelines.lsst.io/v/v24_0_0/modules/lsst.pipe.tasks/tasks/lsst.pipe.tasks.measurePsf.MeasurePsfTask.html#lsst-configfield-lsst-pipe-tasks-measurepsf-measurepsfconfig-psfdeterminer-section
How do I select psfex for measurePsf.psfDeterminer in v24_0_0? Or is psfex no longer an option in v24_0_0?
This may not be related, but I'm also noticing that on the front page of the v24_0_0 docs, there's a sentence that says:
This documentation covers version v23_0_0. Learn what's new. You can also find documentation for other versions.
Is the "v23_0_0" listed there accurate? If the docs are not updated for the release I'm actually using then maybe that could explain what's going on.
The page I'm referring to is The LSST Science Pipelines — LSST Science Pipelines.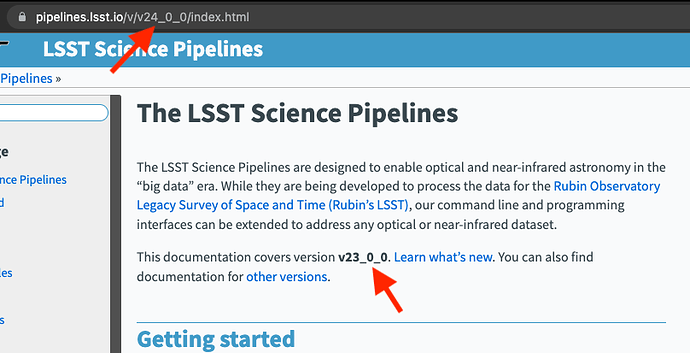 Thanks very much.
step1-v01.log (4.6 KB)