Pedro Bernardinelli and Jake Kurlander, who helped to generate the simulated solar system observations being used for DP0.3, gave a presentation about the details of the simulated populations and a tutorial with a notebook that shows how to retrieve and identify object populations and plot their properties. They also provided an overview of known issues with the simulation and discussed possible improvements for the future.
Thank you very much Pedro and Jake!
Abstract
DP0.3 Overview – We present an introduction to the LSST Data Preview 0.3. This data preview aims to simulate what the data catalogs provided by the LSST will look like after one as well as ten years of survey operations. As such, this simulation includes a wide variety of Solar System populations, from near Earth objects (NEOs) to distant trans-Neptunian objects, as well as the more "transient'' interstellar and long period comet populations. For many of these populations, the number of simulated objects correspond to the same order of magnitude as expected from the real survey. This simulation simulates detection in individual images with their corresponding uncertainties, orbit linking given the survey requirement goals, and had their photometric parameters recovered using a common model for all populations. We also describe some of the known issues with DP0.3, and expected improvements from the next few months. Finally, we present a simple tutorial where the user can select individual information for a given Solar System population.
Slides
DP0.3 delegate talk.pdf (1.4 MB)
Tutorial
The AbsMag.ipynb file in the lsst-simulation repository.
During the assembly, the second cell (the first query) of this notebook failed to execute. A fix is currently being worked on by Rubin staff. See New DALFormatError for a DP0.3 query for details.
Recording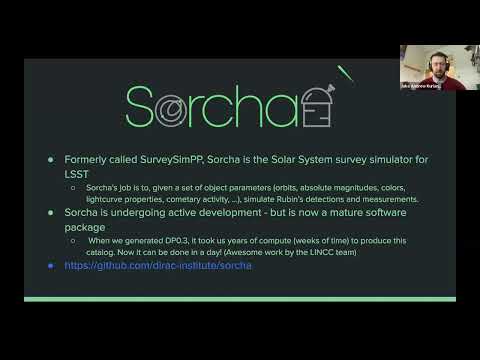 Additional resources
The DP0.3 documentation, and in particular the pages that discuss the simulated data products.
Upcoming DP0 virtual seminars
Fri Oct 6: Stack Club, all are welcome.
Fri Oct 13, 20: Delegate Assemblies with a DP0.3 focus.