During the DP0 delegate assembly held on Friday, October 13th, 2023, Community Scientist Andrés A. Plazas Malagón presented DP0.3 Notebook 03: Trans-Neptunian Objects.
Recording: DP0 Delegate Assembly, Friday, Oct 13, 2023: Trans-Neptunian Objects in DP0.3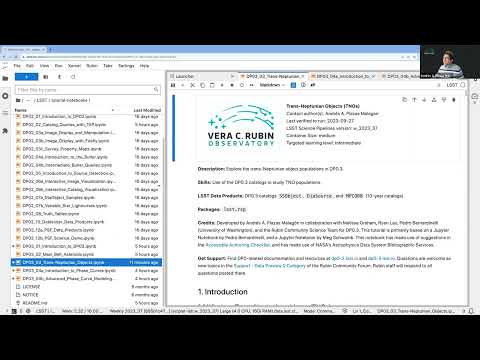 This tutorial retrieves the subset of Trans-Neptunian Objects (TNOs) from the LSST Year 10 catalogs of the DP0.3 simulation, defines different TNO dynamical classes, and studies their properties such as orbital elements and absolute magnitude distributions and their potential relationship to different models of the formation of the solar system. After the presentation delegates remained in the main room discussing questions related to TNO orbit visualization in 3D and the implementation of machine-learning-based techniques to analyze the data, among others.
For other upcoming events, see the full schedule for DP0 virtual seminars.